A one day hackathon run by the NAO, the Office for National Statistics (ONS) and the Bank of England.
| | |
| --- | --- |
| Date: | Thursday, 29 March 2018 |
| Time: | 08:30 registration and free breakfast |
|   | 09:15-17:30 event, including free lunch |
| Venue:     | NAO, 157-197 Buckingham Palace Road, Victoria, London, SW1W 9SP |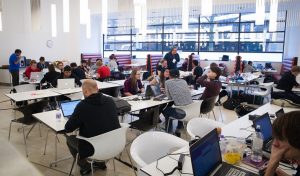 Surprised we're hacking the economy? Don't worry, in this context, hacking means building apps, websites and services very quickly to prove the value in an idea. A hackathon is "an invention marathon" where participants work together in teams (or solo) to create prototype projects to solve a specific challenge.
Data analysts and scientists from the NAO, the ONS, the Bank of England and a number of Fintech companies will spend the day digging into the data to find out things we didn't know already.
They're looking for a wide range of participants from the private and public sector to join them. It's a great opportunity to make new contacts, explore new ideas and show off your skills.
If you're interested in how the economy works; what companies are doing; how big a particular sector is; or like identifying new trends – then this free event is for you. 
There will be a panel of eminent judges from each of the three host organisations to give you feedback and advice. The winner will be announced at the end of the day.
Participation is free with breakfast and refreshments provided throughout the day. All you need is your idea for the hackathon when you apply for a free ticket.
Note: All participants will need to bring their laptop, charger(s) and any other devices they wish to work on.
Find out more and apply for tickets by submitting your idea on the Hack the Economy website.