This page is part of our decommissioning toolkit.
Whether you are commissioning or decommissioning a service or service provider, proportionate monitoring and evaluation are both elements of good management practice. This section looks at issues around decommissioning and:
Monitoring the impact on users and providers
Evaluating the process of decommissioning
Monitoring and evaluation: What good practice looks like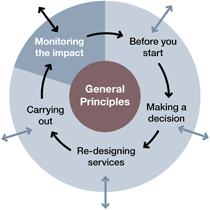 ---
Related content
Table of contents
Decommissioning toolkit: Table of contents
Previous page
Carrying out decommissioning: What does good practice look like?
Next page