Once a financial relationship has been established, a number of issues become more significant. All of these issues need to be considered earlier, certainly before services begin to be delivered, but this is a convenient point for us to discuss them: Risk management Sustainable financing Full cost recovery (FCR) Payment Model Key questions to ask Have […]
Page
February 15, 2013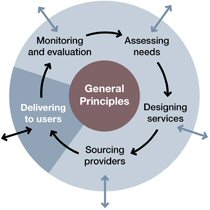 Once a financial relationship has been established, a number of issues become more significant. All of these issues need to be considered earlier, certainly before services begin to be delivered, but this is a convenient point for us to discuss them:
Key questions to ask
Have I assessed the risks involved with my service and its financial relationship with the third sector?
Am I funding an appropriate proportion of management and overhead costs?
Is my payment model appropriate for the outcomes to be achieved?
Does my payment model prejudice third sector organisations?