The National Audit Office (NAO) uses three criteria to assess the value for money of government spending i.e. the optimal use of resources to achieve the intended outcomes: Economy: minimising the cost of resources used or required (inputs) – spending less; Efficiency: the relationship between the output from goods or services and the resources to produce […]
Page
February 20, 2013
The National Audit Office (NAO) uses three criteria to assess the value for money of government spending i.e. the optimal use of resources to achieve the intended outcomes:
Economy: minimising the cost of resources used or required (inputs) – spending less;
Efficiency: the relationship between the output from goods or services and the resources to produce them – spending well; and
Effectiveness: the relationship between the intended and actual results of public spending (outcomes) – spending wisely.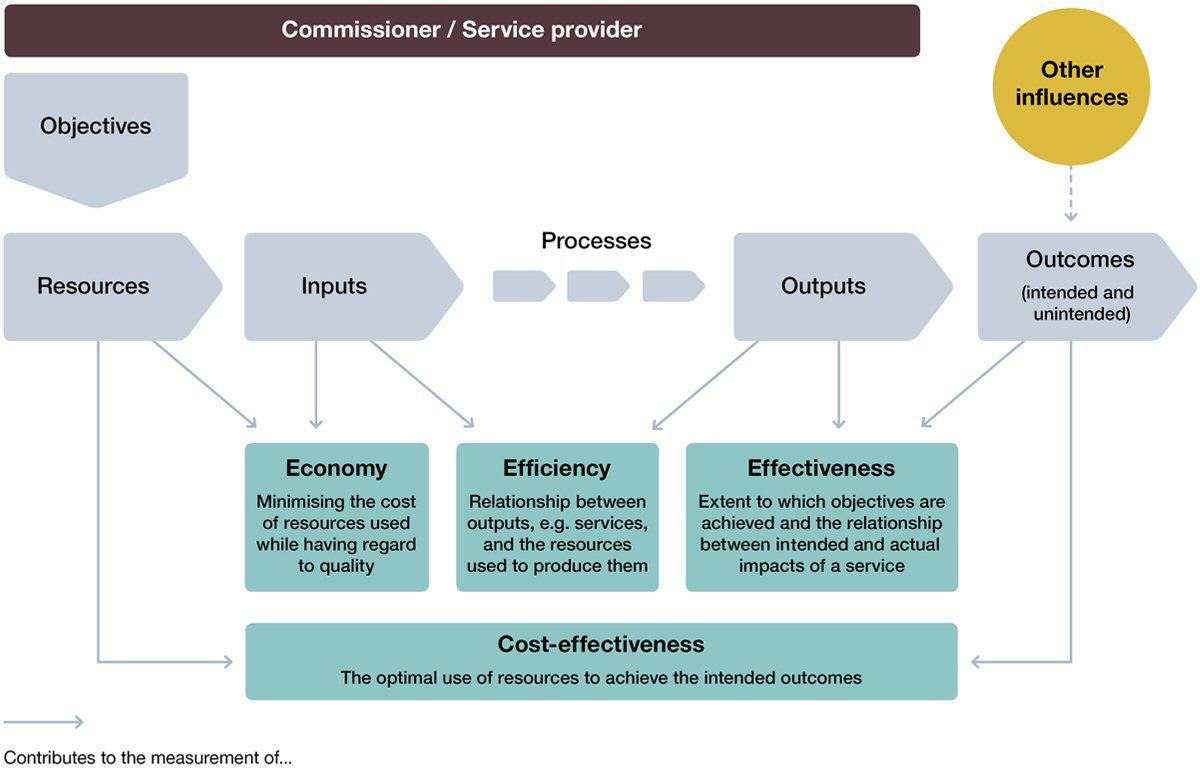 Click the image for a larger version (jpg – 98KB).
Alternatively, a text description of the value for money diagram (pdf – 8KB) is available.
Besides these three 'E's, a fourth 'E' is applied in some places:
Equity: the extent to which services are available to and reach all people that they are intended to – spending fairly.  Some people may receive differing levels of service for reasons other than differences in their levels of need.
For example:
The cost and level of provision of a service is more for one group of people than that for another group of people with similar needs;
some people cannot reach, see, hear or use a service;
the service may be unsuitable for some people's specific needs;
a service is provided in a language that some people do not speak or terms they do not understand; or
some people are unaware that the service is available to them.
Practical example: value for money
A local authority sets up a new programme to reduce litter dropping. One of its early steps is to agree with stakeholders a set of outcomes for the programme. The effectiveness of the programme is to be judged on the extent to which it reaches its outcomes in a year.
In this case, the programme achieves 97% of its outcomes and councillors declare they have 'come within a whisker of winning the battle against litter'. The programme was effective.
However, the programme cost more than expected and overspent its budget by 25 per cent. This was because the programme managers allowed costs to over-run in their drive to meet the outcome. The programme was not economical.
The cost over-run prompts a review of the service. This concludes that, outcome for outcome, it was more expensive than similar programmes in neighbouring areas. The programme was not efficient.
If programme objectives had been exceeded sufficiently, the programme may have been cost-effective despite the overspend. However, programme managers could still be criticised for exceeding the budget.
The most disadvantaged parts of the area were also those with the biggest litter problems and these neighbourhoods improved more, from a lower base, than wealthier places. The programme was equitable.
The commissioning process also involves many external stakeholders and people. We consider how third sector organisations (TSOs) may help you involve these under Assessing needs: Engaging with TSOs.