This page is part of our successful commissioning toolkit.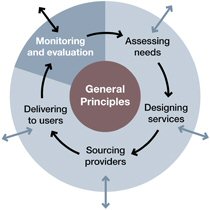 This section summarises the National Audit Office (NAO) guidance on 'intelligent monitoring', the practical implementation of the Office of the Third Sector's 'Principles of Proportionate Monitoring'.
Find out more about monitoring and read the NAO's full practical guidance on Intelligent Monitoring.
This section also outlines some issues you should think about when carrying out the evaluation of your programme or the outcomes of your commissioning.
---
Related content
Table of contents
Successful commissioning toolkit: Table of contents
Previous page
Next page