"The world is now living through climate change, not watching it draw near" is the stark warning delivered by the IPCC (Intergovernmental Panel on Climate Change), in its sixth assessment report (AR6).
In risk speak, high-impact, low-likelihood events will become more likely with higher temperatures.
With COP 26 fast approaching and extreme weather events becoming an uncomfortable 'new normal' across the world, not a week goes by without media coverage of the physical risks of climate change whether it be the: scorching heat in Canada, wildfires in the Americas, or devastating floods in Germany, India and China.
So, are we acting fast enough?
The verdict from the Climate Change Committee's June progress report is "with every month of inaction, it is harder for the UK to get on track" with its climate ambitions.
To gauge the level of climate change risk maturity in government we surveyed Chairs of Audit and Risk Assurance Committees (ARACs). While four out of five ARAC Chairs considered climate risks to be relevant to their organisation, over half noted that their organisation did not have a climate or sustainability risk policy or a dedicated employee accountable for either. Additionally, seven in ten Chairs said that climate change risks had either never been discussed at an ARAC meeting or had been discussed less than annually.
Against this backdrop, we intend to help government organisations start the conversation around climate change risk.
What is climate change risk?
As risk professionals we tend to think in terms of "what could go wrong?" and how "how can we manage these risks?".
Government organisations have a huge challenge in trying to balance short, medium and long-term risks. The UK, and indeed the rest of the world, are still recovering from the COVID-19 pandemic, which showed how crucial it is for organisations to have the resilience to respond to high-impact, low-likelihood events. It is important that a true assessment of long-term risks is considered.
Our good practice guide intends to help with this. In setting out the wide variety of potential risks that climate change can bring about, it will help all organisations across government – not just those responsible for leading on climate policy –identify and effectively manage a variety of climate change risks. These risks stretch beyond the physical risks, such as the impact of rising temperatures. They also include the risks posed by the transition to net zero and risks specifically posed to government organisations.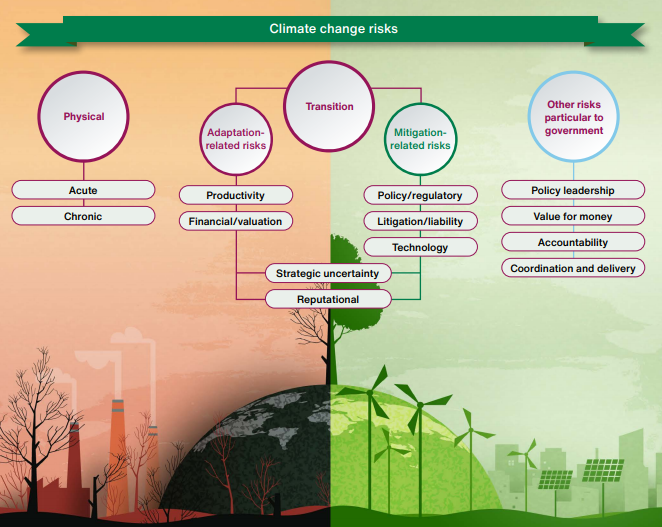 How to support and challenge management
Our guide further allows audit and risk assurance committees to constructively challenge management's approach to climate change risk.
This can be done across the whole risk management cycle: from initial identification and assessment, to treatment and monitoring, through to risk reporting and continual improvement.
For many organisations effectively managing climate change risk will be a long journey. Our challenge questions are a great tool to help you do this.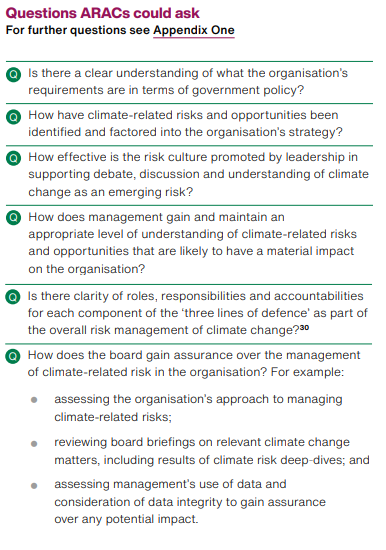 Key takeaways of the Good Practice Guide can be found here. We hope you find it helpful.