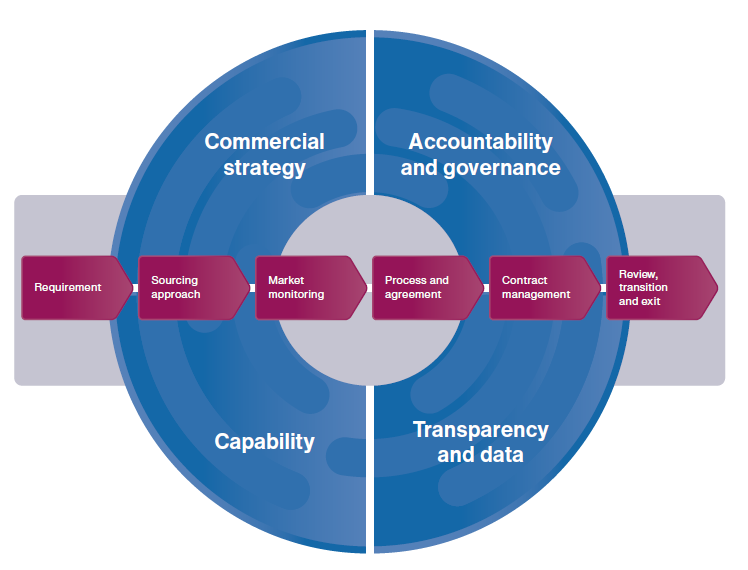 We live in a time when more of our data is collected and connected than ever. It happens when I make an online lunch reservation and Google automatically turns the confirmation email into a reminder on my phone. The pandemic has taken this one step further. When I arrive at the restaurant I now need to scan a code to help supply information to the COVID-19 tracking app.
Alongside an increase in demand for our own data there has been greater public expectation for government to be transparent with its data. For instance, in relation to the commercial elements of its pandemic response: from spending on Test and Trace to new contracts for PPE and for food boxes for the clinically extremely vulnerable.
As the independent auditors of government, giving Parliament and the public greater transparency around government's activities and the value for money that it delivers is at the heart of what we do.
In our recently published Good practice guidance: managing the commercial lifecycle, we share fresh insights around what we learned from our extensive work on government's commercial activities to help inform future actions and to support better sourcing of the things government needs. Transparency and data is one of four supporting elements which are important to the entire commercial lifecycle.
There are many opportunities to make better use of the government's commercial data and digital solutions to improve value for money throughout the commercial lifecycle. For example the process of publishing data could become easier; more useful connections can be created; and more insights could be gained from across the whole of government. But before this can be achieved, government must address challenges it has with late and incomplete disclosure of the information it is required to publish.
This is because government's stated policy is to adopt and encourage greater transparency in its commercial activity. Publishing information on contracts is an important part of its commitments. It recently reinforced this through a new Procurement Policy Notice. However we found in several past reports that publication of contract information fell short of what is required, for instance in not publishing details of contract awards within the timescales it is required to.
Addressing these issues can go hand-in-hand with taking practical steps towards better use of commercial data. Analysis of our own reports on commercial topics over the past five years shows that there have been improvements, but we still found cases where the lack of commercial data has hampered government's ability to analyse its spending and what it is getting in return.
For instance, in the report Care leavers' transition to adulthood, we looked at the data on local authority services. We found that without the data being accurate, complete and comparable, the Department for Education couldn't support assessments to determine whether services offered good value for money.
In our report on Improving value for money in non-competitive procurement of defence equipment, we saw an example of the potential benefits of increased transparency of information on costs for contracts. The Ministry of Defence told us that greater access to supplier cost information allowed it to monitor actual costs against the estimates in contract prices. It meant it could hold negotiations in a more informed way.
Across government there is a chance to improve data and extend commercial transparency to give a clearer view of supplier profits and performance throughout its commercial arrangements. The government also needs a strategy and leadership to navigate the tensions between commercial sensitivity and the public interest. For instance, there should be a more consistent approach on which details need to be redacted from contracts for sensitivity reasons.
In our good practice guide we highlight some of the key ways that improvements can be made in commercial data and transparency infrastructure and arrangements. Data and transparency are crucial to all steps of the commercial lifecycle. There is a big opportunity to implement improved infrastructure to make it easier to make better use of data.We include expectations that:
Transparency rules and guidance are consistently followed in full
Transparency principles are applied to what is procured and how, as well as to performance and changes to the contract.
The collection of data is transparent, proportionate and timely to support the understanding of processes and the market.
Data specification makes the data easy to share and use – consider open data standards, including common taxonomies and unique contract identifiers.
We have also set expectations for good practice and what we see as the most important things for government to improve in other aspects of the commercial lifecycle, and will cover these in future posts, so keep tuned for further entries in this blog series.
---